My child gets anxious in new environments, can I stay with them?
---
Some children take a little time to get used to new environments. This is very normal. To help them gain confidence, we will work with you to gradually transition from needing Mum or Dad in the dance room, to be able to do the whole lesson all by themselves. This may take 2 or 3 sessions but is perfectly normal with young children. The glass doors in the studio will allow your dancer to see you while she dances which will help her to feel confident.
---
I have a toddler, will they distract the children in the class?
---
Our waiting area has glass doors and a TV monitor of the studio. It is the perfect place to allow your toddler to stretch their legs, without distracting your dancer in the class. You will still be able to see your dancer in action. We do request that you keep toddlers away from the studio door. Little people banging on the door while class is in progress means our dancers take their focus away from the teacher.
---
Do I need to buy a uniform, or can we wear our own clothes?
---
During the trial period, it is fine to wear your own dance clothes from home, so long as they are firm fitting and not too baggy. A small skirt, t-­shirt or leggings are best, depending on the style of the class. For ballet, Non‐slip socks or bare feet are best. For Jazz and tap white soled, runners are recommended. Once enrolled for the term, you will need to buy the correct uniform. Wearing a uniform helps the students focus on the lesson, rather than comparing their outfit with everyone else, or being distracted by loose-fitting clothing that hinders the movements required.
---
Where can I purchase the uniform?
---
Our uniform details are in the information pack you will receive upon enrollment. The best uniform suppliers are: Energetiks Ivanhoe -­ Shop 4 ‐ 5, 63 Upper Heidelberg Road, Ivanhoe Ph: 9497 2933 Kids On Broadway ‐ 228 The Broadway, Reservoir Ph. 9462 3544 Pointe to Pointe Dancewear ‐ 62 Main Street Greensborough (in arcade) Ph. 9434 7799
---
Does my dancer need hair in a ballet bun?
---
Ok, hang on, don't panic. It's all "can do". First of all, we know how hard it is to be the parent of a 3-year-old. No need to do ballet buns for kinder and preps. However, once they are in grade 1 at school, if they are enrolled in ballet, you will have to do a correct ballet bun. If your dancer is enrolled in jazz, tap, hip-hop or another dance style, a neat ponytail or plaits are absolutely fine.
---
Please help, I don't know how to do buns!
---
Don't worry, you can do anything when you know how. Our senior students and teachers will happily teach you the skills required to do a ballet bun. You will be responsible for purchasing hair nets, hair ties, and hairpins. We will teach you everything else you need to do. With a little bit of practice, you will soon be an expert. PS. At age 10 ‐ we set a goal for the children to do their own hair all by themselves for class! Mum and Dad are off the hook from now on! Watch our video below to see some pointers on doing a bun.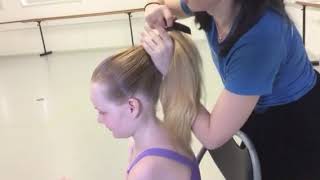 ---
Where is the nearest car parking?
---
Our studio is next door to the Watsonia RSL. There is plentiful parking along the median strip of Morwell Avenue. We don't offer onsite parking, the few spaces we have are for staff use only. There is a pedestrian crossing directly in front of the RSL which all families are expected to use, for the safety of our students.
---
Do I have to wait onsite, or can I wait in the car for my child?
---
That depends on how old your child is. Our Student/Parent code of conduct requires parents of primary school age children to come in to pick up your child. You are welcome to do a bit of shopping, have a coffee in the nearby cafes or visit the Watsonia library while class is on, but we expect you to be on time to collect your child right at the end of class. If you are a few minutes late, don't panic. Things happen, but do let us know if you are going to be more than 10 minutes late for pick up. We will NEVER allow primary school children to leave the building without a parent/guardian. Secondary School students are able to meet parents at the car. However, if it is after dark, they will not be permitted to leave the premises alone.
---
What happens if we miss a lesson?
---
Enrolments are on a ten-week termly basis. If you are absent, there is no refund. We expect students to attend every week. Absences cause your dancer to lose confidence and fall behind their class standard. Muscle memory is a critical part of becoming a strong dancer. Missing just one lesson will have an impact on the speed of progress. If there is an available place in a similar class on another day, you may attend a makeup session, but we can't guarantee a place. Pre‐booking is required in advance for any make‐up lesson.
---
We are going on a family holiday for 4 weeks mid‐term, can we pay partial fees for that term?
---
Enrolments are on a ten-week termly basis, as per the Victorian School Term dates. If you choose to be away during the term, you forfeit those lessons. Full-term fees are payable. We recommend taking holidays during the school term periods.
---
Is there a concert and what happens then?
---
We have two concerts – Kinder Dance for our pre‐school age dancers, and our Main Performance for Preppies to Advanced dancers. Kinders are usually on the 2nd Sunday in December – the show is approximately 45 minutes long. Children come to the theatre in the morning, do a short rehearsal on the stage, and then perform the show for an appreciative audience of Mums & Dads. We welcome a team of volunteer parents to help in the dressing rooms with our little people. You will be able to watch the show from the side of the stage. Our Main Performance is usually the last Saturday of November. Dates are determined by the Theatre's schedule. We publish the exact date in Term 1 each year so you can book it into your diary nice and early. Concerts are a huge TEAM challenge. You need to commit to attending every lesson in term four leading up to the big day. It is unrealistic to expect your dancer to remember his or her part if they are absent. Absence from class during this time is not acceptable, as it lets down other class members. If you know your dancer will be away in term four, you will need to withdraw from the concert for that year. The week before the show is a COMPULSORY Rehearsal Week, and all dancers are required to attend extra rehearsals. The schedule is given to all families in September. Please put the dates in your Diary promptly. If for any reason your dancer cannot attend any part of the rehearsal week, he or she will need to withdraw from the performance. (VCE exam students have some flexibility in this period, we understand the importance of this). Ask any of our senior students and they will tell you, that their time at dancing provides a healthy break from study, and actually helps them study more effectively! The high standard of school exam results we see in our students speaks for itself!
---
Does my dancer have to do competitions and exams? I don't want them to feel pressured, I just want them to have fun.
---
No, you do not have to do exams or competitions. This is not for everyone. Students can choose the best pathway for them. We have an Excellence program for the dedicated focused students who want to attain exam levels, possibly even pursue a career in dance, or just because they love achieving goals! We also have a Competition team. Again, this is optional. Students must apply to be accepted into the Excellence program and /or the Competition team. A number of criteria must be met, including additional hours of training beyond the weekly classes, and commitment to home practice. All students are welcome to attend recreational classes purely for the purpose of fitness, friendship, and enjoyment. However, we have an expectation of a positive attitude to learning. Come prepared to listen to the teacher, ask questions if you need to, and focus on dancing to the best of your ability. You don't need to be the next Fred Astaire, you might even have" two left feet". That's ok. Disruptive and anti-­social behavior in class is not ok. So please restrict your social time with friends to the waiting area, and come into the studio with a "can do" mindset, ready to learn. Be a highly‐valued team member. We ask that you show respect, try your best and be helpful to others when needed.
---
How do I enrol in a trial class or term class online?
---
Click the image below to take a look at our video follow through tutorial of how to enrol online with Dance Studio Pro.
---
---